Leigh Ann Handel Cutright will be teaching Forrest Yoga in the loft on Saturday September 24th from 9:30-10:30AM. Click here for more information!
This class is part of the Yoga IRL Series.Take just one class, or many. It's about what works in your real life. 
Forrest Yoga is designed with modern bodies and lifestyles in mind. Poses are modified and arranged so they can be practiced in a way that is pain free, but still challenging.
"Forrest Yoga does not require strength or flexibility; it only requires a willingness to learn how to feel authentically and respond honestly. The practice is founded on four pillars: Breath, Strength, Integrity and Spirit." - Ana T. Forrest
This class is for those who are teens and up! It is $13/person. To register for this class, please click on the link here. Spots are limited, so register today!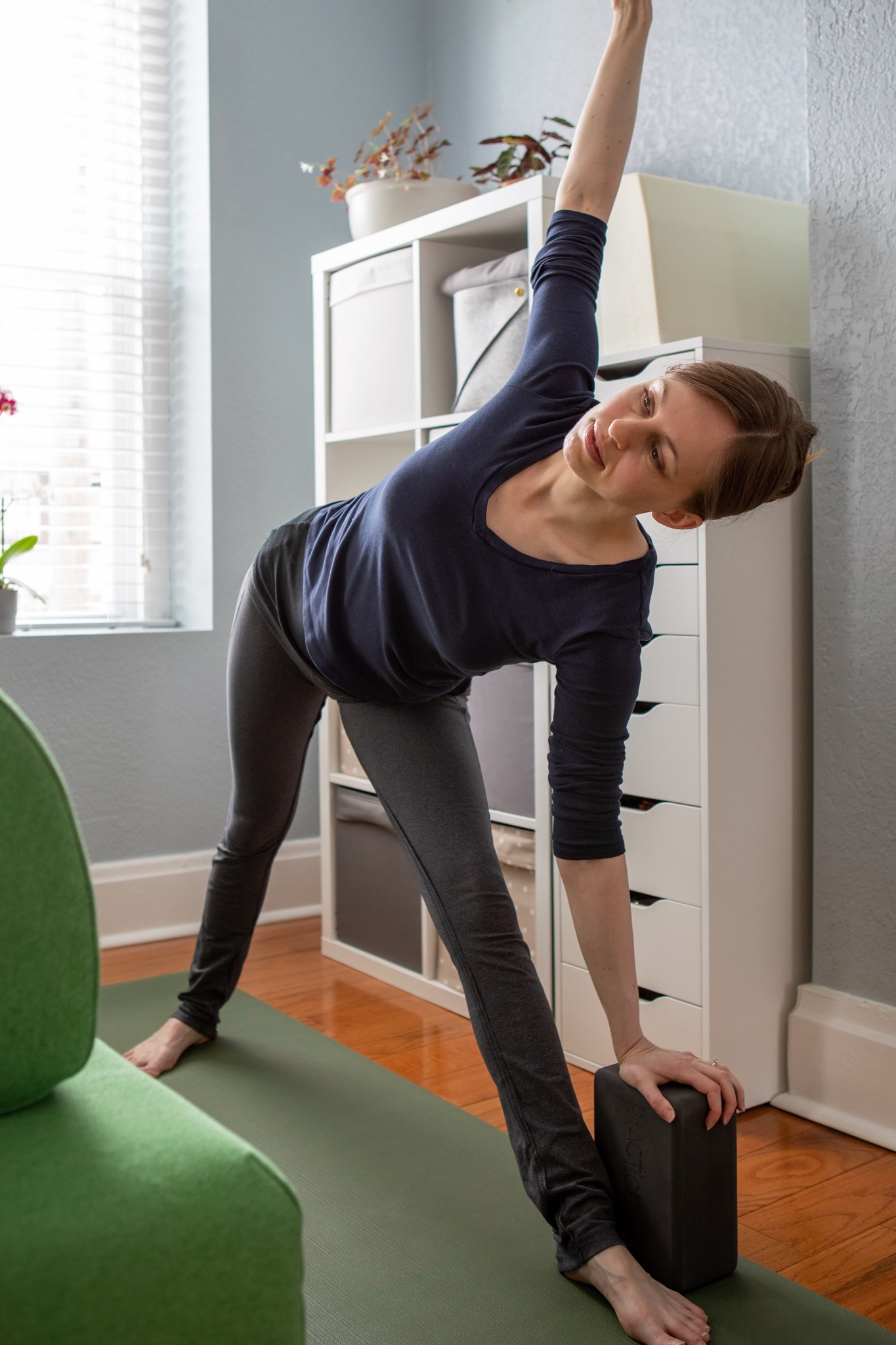 About Leigh Ann
WHY I PRACTICE AND TEACH
I started practicing yoga, because I thought the poses were beautiful. I still do think that, but what gets me on my mat these days is basic self care. The difference I feel in my body and brain after practice is tremendous. We are our best and kindest selves when we feel well. Practicing and teaching yoga is my approach to trying to make the world a better place.
WHAT TO EXPECT IN MY CLASS
"Yoga works by interrupting our habitual ways of moving, breathing, and thinking" (Heidi Sormaz), so that's what we do in my classes. Expect precise cues, intelligent sequencing, and a dose of nerdiness. All of my classes include modification options, because all bodies are different. You'll meet people of all different levels of strength, flexibility, and experience in class.
OUTSIDE OF YOGA , I ….
Help people organize their homes. I fell in love with the KonMari Method® for myself in 2017. I started helping people implement it in their own homes in 2019 and became a Certified KonMari Consultant in 2020. I consider tidying and caring for my home environment to be a form of self care, similar to yoga in many ways.
Fun Fact about Leigh Ann: 
I design and sew a lot of my own clothing. I started because of my feelings about the fast fashion industry, and it has turned out to be rewarding beyond my wildest dreams as a creative outlet. Such a pleasure!
So Me Artisan Wares and Jewelers Studio
3940 Middle Rd. Allison Park PA 15101
www.somepgh.com
412-767-8818
Follow us on Instagram to stay up to date on all of our awesome classes and events coming up! @somepgh and @somepgh_loftspace